19/05/14
Sidel and Western Containers have enjoyed a close working relationship over the last 30 years. The new agreement for its plant on Distribution Boulevard, Houston, comes in the wake of a previous successful liaison between the two in the same location covering spare parts, field services and maintenance. That originally covered two Sidel blowers at the plant over a three-year period ending in 2013. This was then renewed and extended to cover a third Sidel blower in the same plant in January 2014.
Steve Gonzales, Western Containers' Plant Production Manager at Houston explained: "The initial maintenance agreement with Sidel was a great help in so many ways. Apart from the obvious benefits of expert and timely maintenance, it helped amortise the costs over the whole three years. This made budgeting far easier and, as a result of the agreement with Sidel, there were no sudden, unexpected additions to our overheads."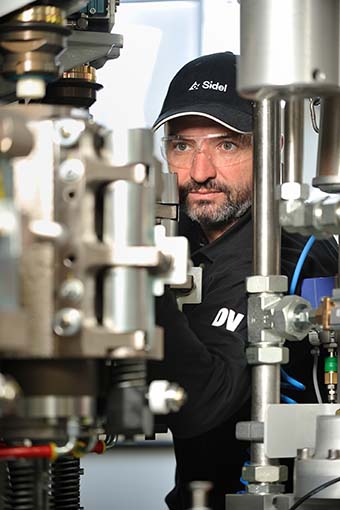 Premier manufacturer of PET bottles for Coca-Cola
The high-performance company, which produced 5.8 billion units in 2013, was originally set up by a group of Coca-Cola bottlers in 1979, in response to the long-term need for a reliable source of high-quality, low-cost plastic bottles and a central distribution point. The packaging company is dedicated to maximising value and committed to providing lowest cost, highest quality and service along with assurance of supply for its shareholders, the Coca-Cola bottlers. Its first site in Big Spring opened in Texas in 1980 and a second was established in Houston in 1984. The Corporation boasts five manufacturing plants producing bottles for carbonated soft drinks and water.
The first maintenance agreement was signed in December 2010 and covered two Sidel SBO 34 blowers, lasting for three years. When the agreement was renewed last January, it was revised to include an additional SBO 30, recognising the success of the planned maintenance approach.
Smooth budgeting, less downtime
Steve Gonzales continues: "We know that if we had not had this maintenance agreement in place, we would have seen our efficiency drop. Before it was in place, we would be scrambling around, waiting for parts. Once it was, our efficiency went up and our scrap rate went down." He adds: "Bottle quality also improved tremendously, and we were able to re-allocate our team to other areas in order to improve overall line efficiency."

Reliable and flexible
"It helped the whole plant. It even minimised our changeover times. We would always receive orders for parts on time and in full, meaning there was no need for multiple orders. We also reduced shipping costs because we were making fewer parts shipments thanks to ordered planning. I was able to stay on track with my plant maintenance and we could all sleep better at night."
The Sidel Services maintenance agreements are designed for preventive maintenance, thereby minimising downtime and optimising overall equipment effectiveness.
"There are obvious cost benefits in locking the pricing of maintenance three years in advance," adds Gonzales. "However, the real beauty of the Sidel agreement is that you can customise it any way you want. We believe the equipment will last longer and, as a result, we plan to use Sidel original spare parts 100%."
Download the press release here.
HD pictures to download.